The Oxford Dictionary Of Architecture. Third Edition.

Author : James Stevens Curl and Susan Wilson
Publisher : Oxford University Press, 2015
978-0-19-967498-5 (hbk)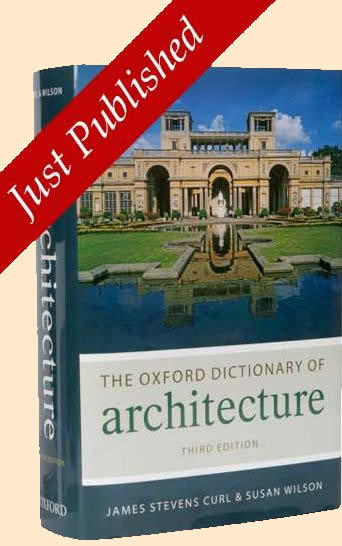 This extensively revised, expanded, and critically acclaimed dictionary contains more than 6,000 meticulous entries - 900 entirely new - including hundreds on landscape architecture. Written with clarity, brevity, and wit, this authoritative edition covers a broad, concise sweep of architectural and garden history. Beautifully illustrated with over 270 original drawings, and complemented by an extensive bibliography.
30% Discount Introductory Offer
*only when you order directly via www.oup.com/uk, adding promotion code below to your shopping basket.
AAFLY7
Discount valid until 30/04/2015. Limit: 10 copies per transaction. This offer is only available to individual (non-trade) customers . This offer is exclusive and cannot be redeemed in conjunction with any other promotional discounts.
Reviews
"Anyone seeking a single volume dictionary of architecture has only one choice ... [Curl's is] by far the best in the field ... a magnificent achievement, indispensable, and never dull."
Gavin Stamp, The Magazine of the Twentieth Century Society
"... incomparably the finest dictionary of architecture in existence ... It says much for Curl's prose, as well as his vast scholarship, that this book deserves the highest praise a reviewer can confer."
David Watkin, The Georgian: The Magazine of the Georgian Group