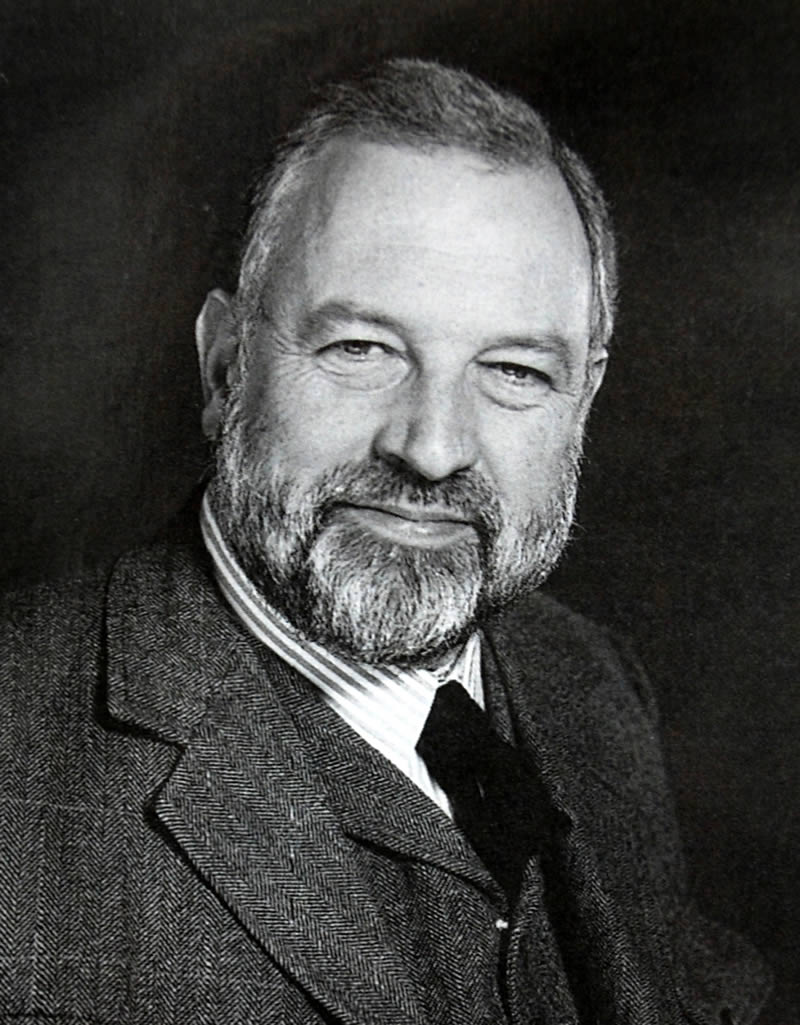 Studio photograph by Norman Cope, Leicester (1990)
Architectural Projects
During a long career in various aspects of architectural activity, some of it in times of economic uncertainty when stop-go policies of Government frequently brought schemes to a sudden halt, JSC managed to work on a variety of projects, only a few of which can be mentioned here. His careful interventions with historical and traditional buildings (some when associated with architectural firms or other organisations) have given him the most satisfaction, for he believes in the cultural importance of old buildings, not only as repositories of memory, but as valuable artefacts the destruction of which would be a terrible waste of irreplaceable resources.
Only a selection of his architectural output can be shown here. It includes conservation work at a mediaeval church in Oxfordshire; renewal of the stonework of a mediaeval Oxford College; the addition of a porch to the late-Georgian front of a house in Oxfordshire; restoration of a house in the West End of Glasgow; conservation and repair works to the upper part of a tower of a manor-house in Hertfordshire, including the discovery of hidden Gothick windows, all carefully reinstated; an extension to a small house in Hertfordshire; and new stonework and rebuilding of balustrades at an early-19th-century terrace in Winchester. His interventions involving old buildings have always been informed by knowledge, sensitivity to period detail, and respect for existing fabric: 'keeping in keeping' has long been his philosophy.
For many years he has been interested in the challenges and problems of Designs for Death: he studied the problem for many years, and produced The Victorian Celebration of Death in 1972 (a volume which inaugurated what we now know as Funerary Studies) in the teeth of indifference, hostility, and downright ridicule, but his originality in this regard gained him many admirers, so that his much-expanded book with the same title, published in 2000 (revised 2004), was hailed as a major contribution. His knowledge of the subject and of the problems of Commemoration have led him to design monuments to counteract the mawkish products of the average 'monumental mason' which he claims have added New Terrors to Death. Aware of the poor quality of much contemporary funerary monuments, he has designed several Classically-inspired works, a selection of which is shown here. He draws on fine lettering, heraldry, and a free interpretation of Classicism to create monuments that enhance, not erode, the qualities of old-established churchyards, using materials that respond to local character, and calling upon the services of fellow-members of the Art Workers' Guild to realise the work. Recently he has started to explore the possibilities in work inspired by even earlier traditions in a contemporary manner.
Click any image to see larger display.